Schoolchildren plant a cherry tree to create their own 'play street' in Limehouse
PUBLISHED: 12:59 11 December 2018 | UPDATED: 07:11 12 December 2018
Mike Brooke East London Advertiser
Pupils help design play street with trees outside Sir William Burrough Primary school. Picture: LBTH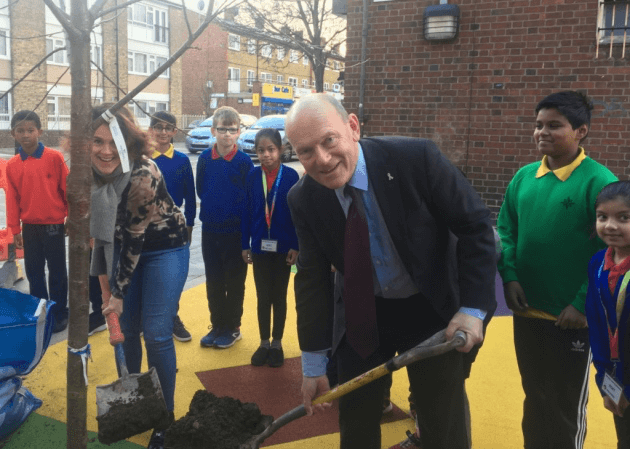 Mayor John Biggs roped in to help pupils plant cherry tree in their new play street. Picture: LBTH
Salmon Street, a cul-de-sac off Salmon Lane which leads up to Sir William Burrough Primary school behind the busy A13 Commercial Road, had already been closed off to traffic by Tower Hamlets Council.
The aim is to tackle air pollution—although the 50ft long dead-end turning never actually had any through traffic or even parked cars.
But it does make a useful place to play for the children who helped design it with trees, benches and a mural.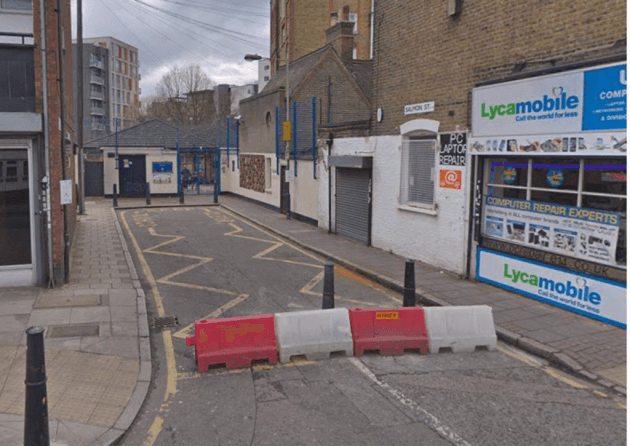 Tower Hamlets Council turns cul-de-sac in Salmon Lane into children's play street to "reduce air pollution" despite having no through traffic. Picture: Google
"Some roads will be closed entirely to traffic," mayor John Biggs warned. "Others will have timed restrictions to help reduce air pollution caused by parents dropping off their children."
The council's tough traffic policy was introduced two years ago after research by Kings College London showing children from the most polluted areas having five to 10 per cent less lung capacity than youngsters in other parts of London.
Cllr Rachel Blake, cabinet member for air quality who joined the mayor for the Salmon Street planting, said: "It's shocking that children's health is more badly affected here than in wealthier areas. 'School' streets will help screen off some air pollutants and create safe places to play."

What Tower Hamlets Council and Tower Hamlets Homes actually do!
In total Tower Hamlets Homes have removed at least 18 trees from within and around the immediate vicinity of the Triangle in last three years!
This little triangle is directly in front of the Primary School featured in the above article.
You can see the remains of a tree cut down in March 2019 during the birds nesting season. This is approximately 30 meters away from the same school where Mayor John Biggs and Cllr Rachel Blake planted one tree in December 2018, yet here across the road the council did this a few months later!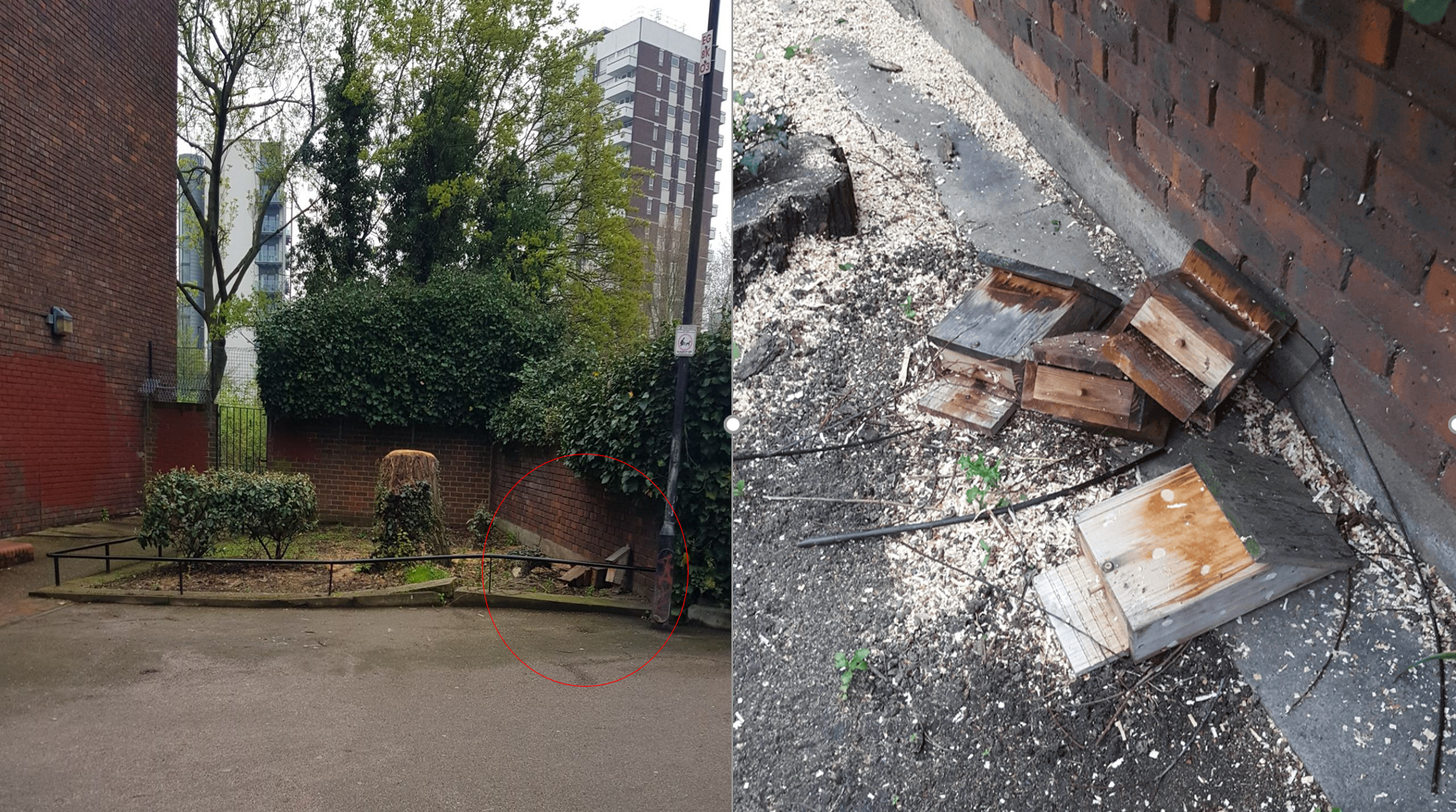 This tree had bat/bird boxes attached - It was left strewed across the ground for weeks!
Below are the councils contractors cutting down more trees inside the Triangle in November 2018 - this was before planning permission was granted!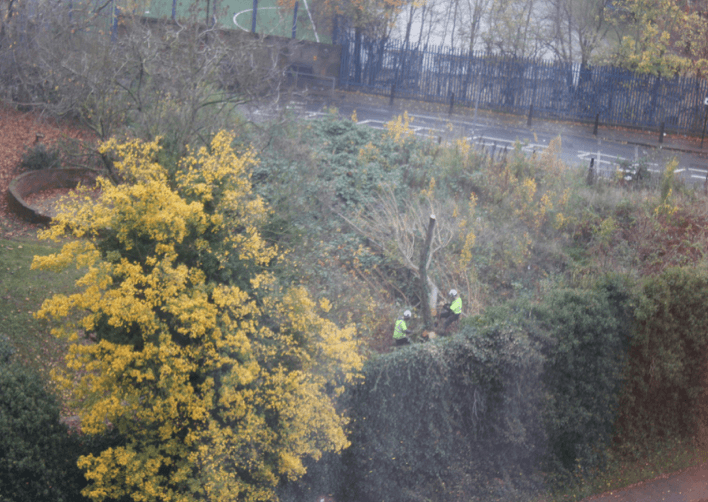 The Parnham Street residents garden on the left which the council do maintain - what the council has neglected on the right - the Victorian building you see ahead is Sir William Burrough primary School.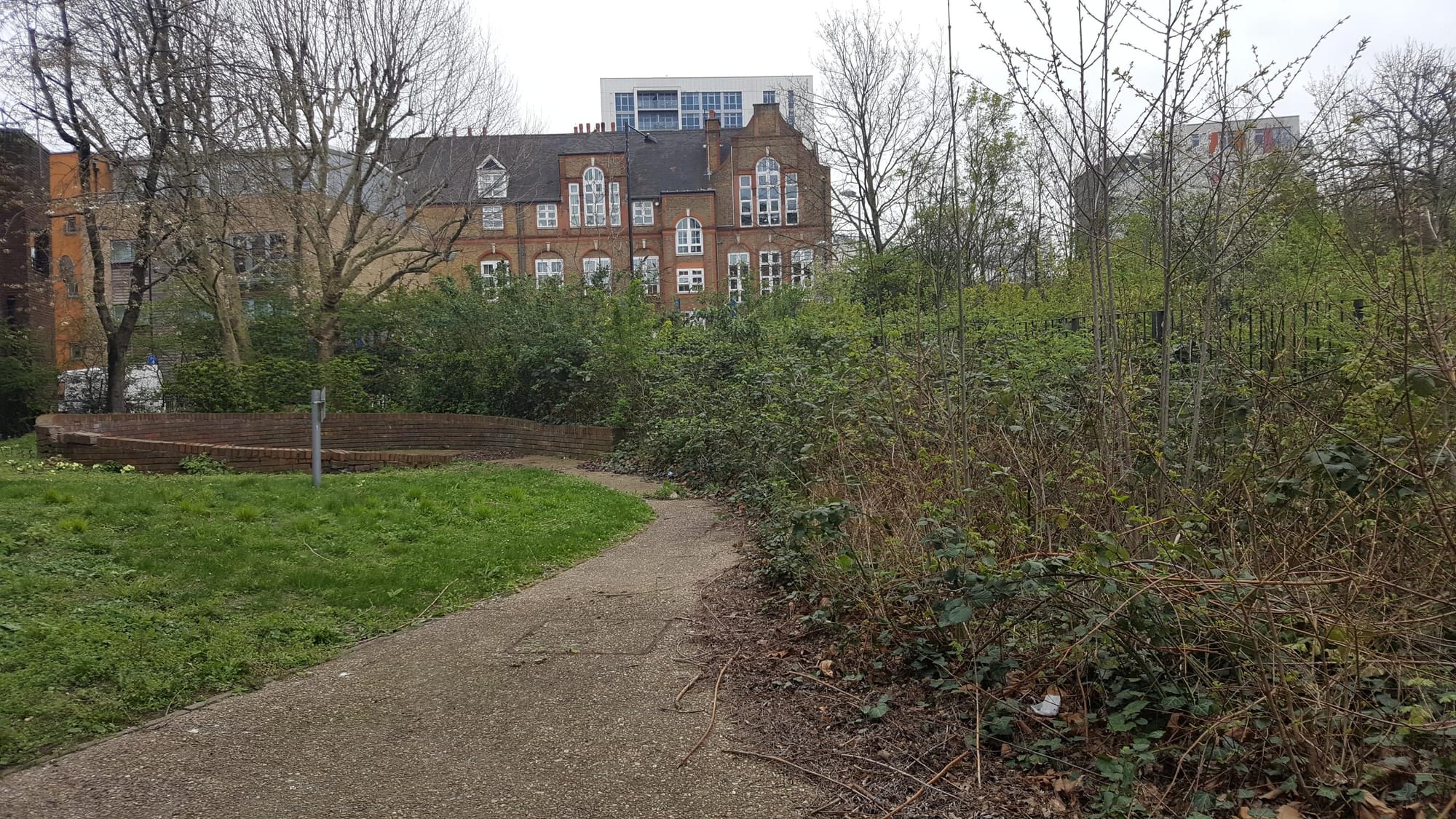 Cllr Rachel Blake who is the Deputy Mayor and Cabinet Member for Planning, Air Quality and Tackling Poverty spoke at the Development Committee Meeting on 1st April 2019, in support of demolishing the Limehouse Triangle to build the five and eight storey block.
This was the residents fifth attempt to halt the build and the third Development Committee meeting residents attended at Tower Hamlets Town Hall.
The cheapest social rents will start at £150+ per week excluding service charges! 2018/19 rates!
Sign our petition: We have a Plan Bee...
Click

here

to sign.


Back to soundbites and impressive photo opportunities.
Cllr John Pierce was another Councillor who voted for the demolition of the Limehouse Triangle on 1 April 2019 in the densely populated urban location of Parnham Street in favour for more properties, more congestion, pollution etc. Here he is retweeting about Rachel Blake and others planting trees Victoria Park.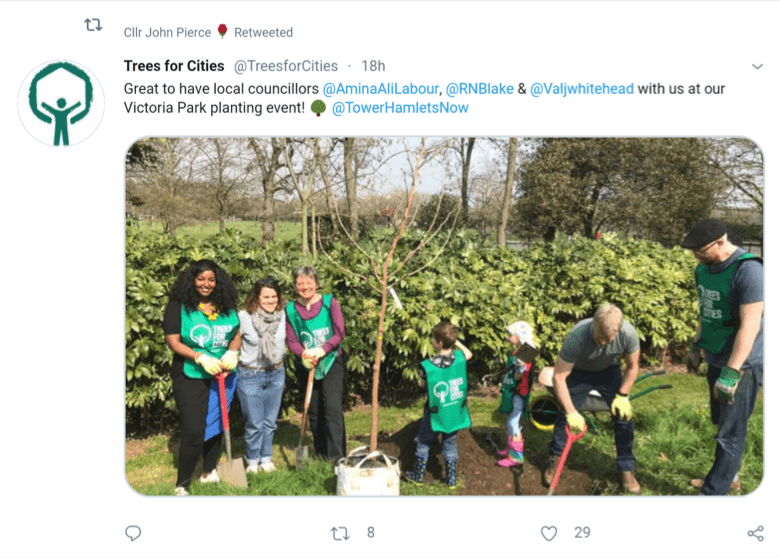 Two weeks before the decision to demolish the organically grown biodiversity site and make way for a development of 17 properties the council pledged a promise with another very impressive photo opportunity to become a zero-carbon borough by 2025.
We are asking who is this Zero Carbon initiative for!!!
Residents have spent the last 3 years campaigning to the council that Limehouse Triangle is beneficial NOW for residents, the future generation especially with three primary schools in it's proximity - Sir William Burroughs Primary School (opposite), Stepney Greencoat Primary School (100 yards) and Stephen Hawking school (250 yards).
So it has to be said is the Mayor being made to look stupid by his team with all these photo opportunities!
Are his Councillors and the Council lying to the residents or have they all lost control of what goes on inside their council!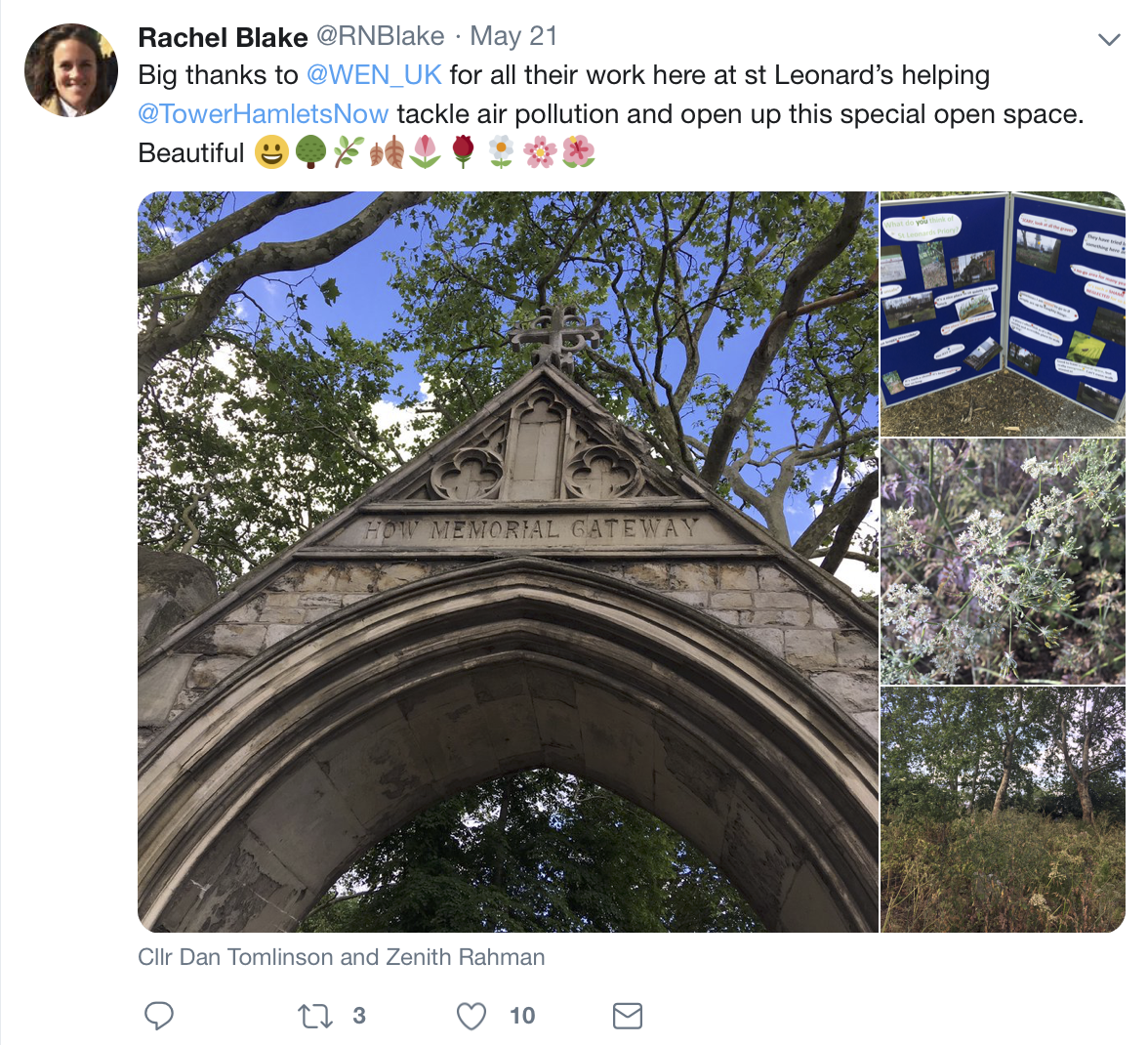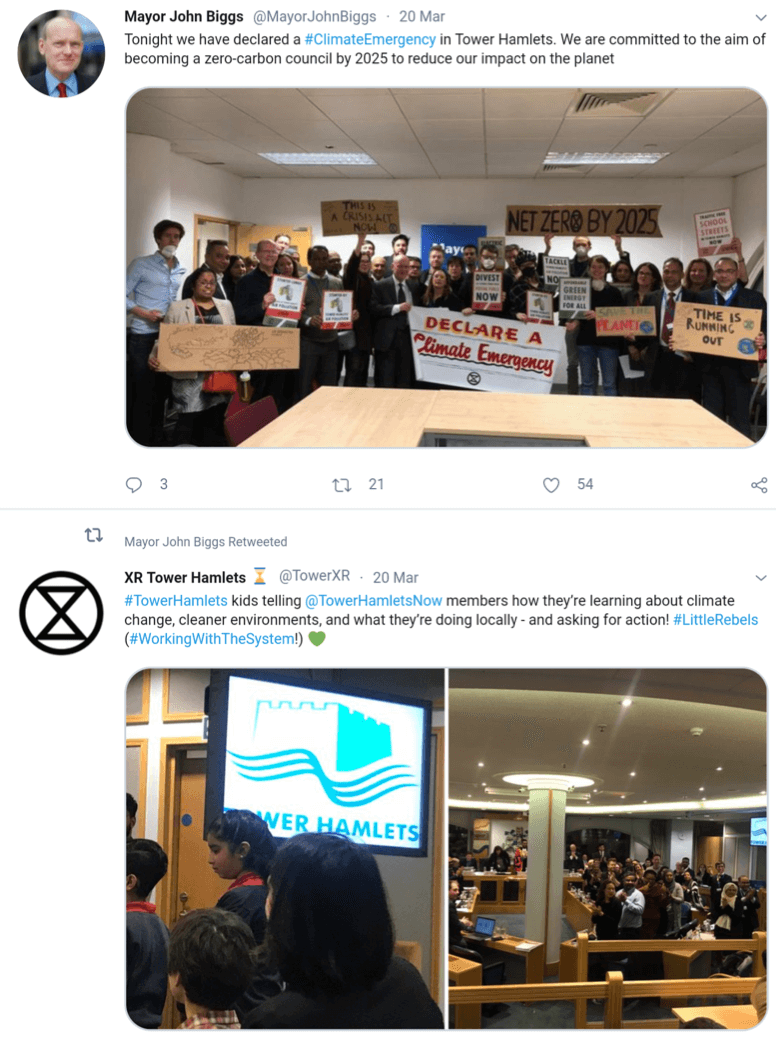 Cllr Salva Macallan also voted on 1 April 2019 for the Triangle to be demolished.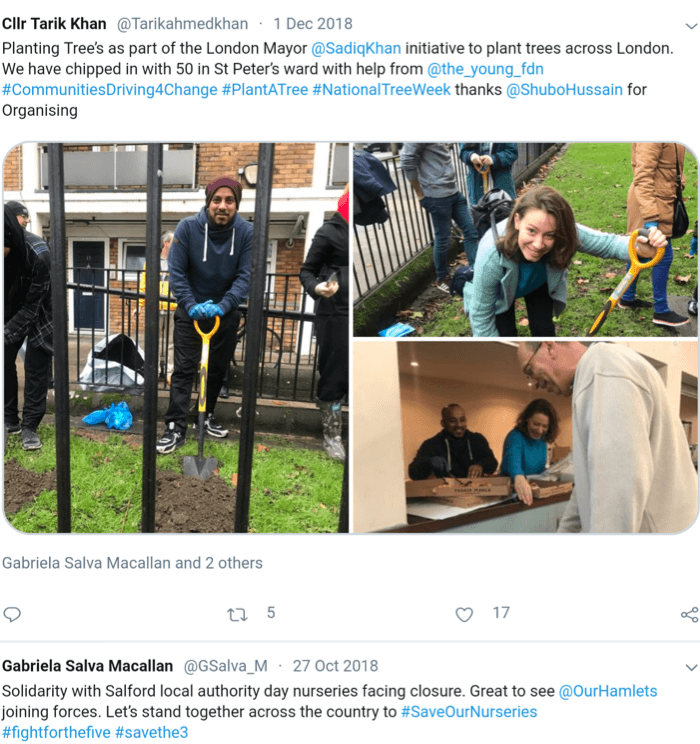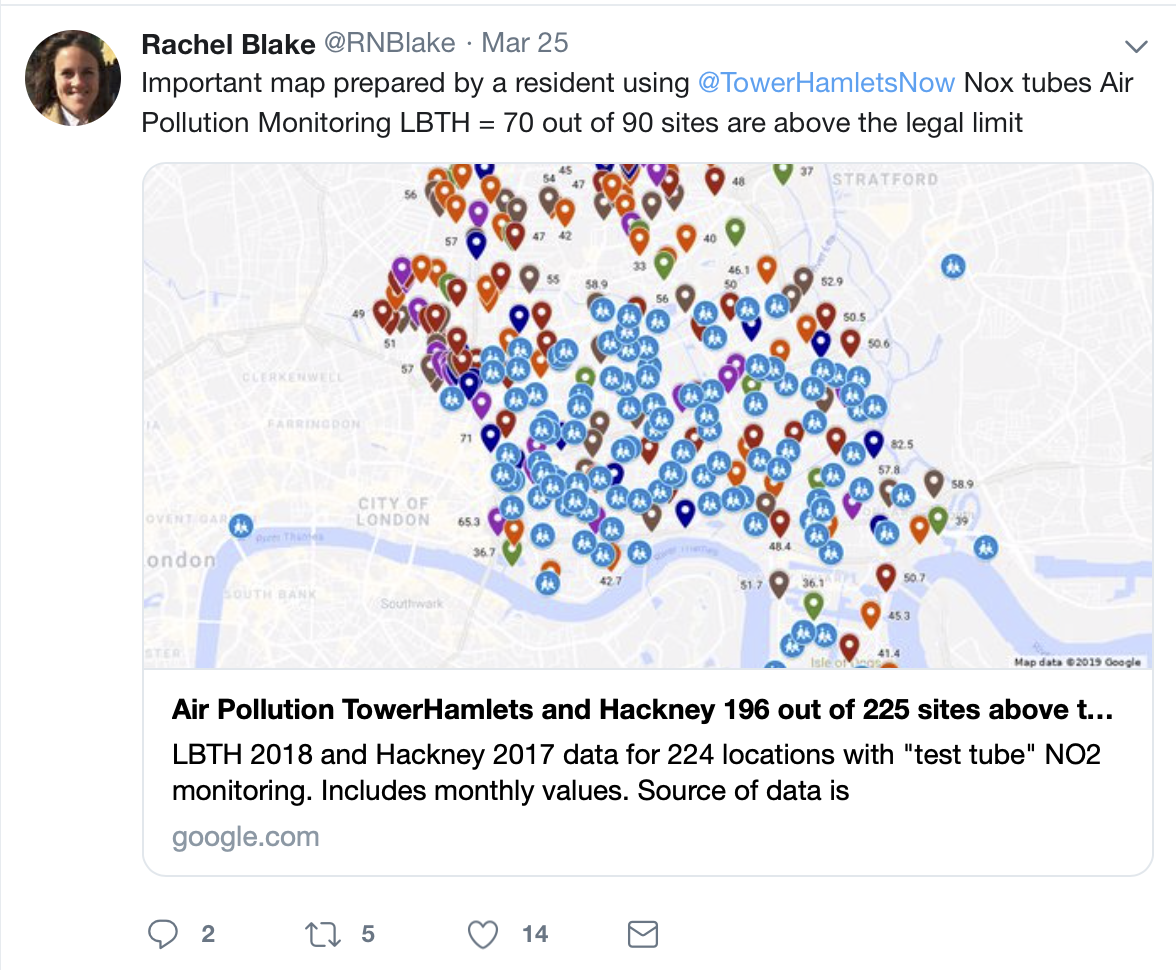 Councillor's jumping onto Extinction Rebellion but won't listen to resident who realise that we are in a CLIMATE meltdown NOW.
Is the council using these important issues as photo opportunities for soundbites!
Are the council fully aware of what is going on in their own backyard! More importantly are residents fully aware that the council SAY ONE THING BUT DO ANOTHER.
Mufeedah Bustin who retweeted this was also at the Development Committee Meeting 1 April 2019 and voted for the development.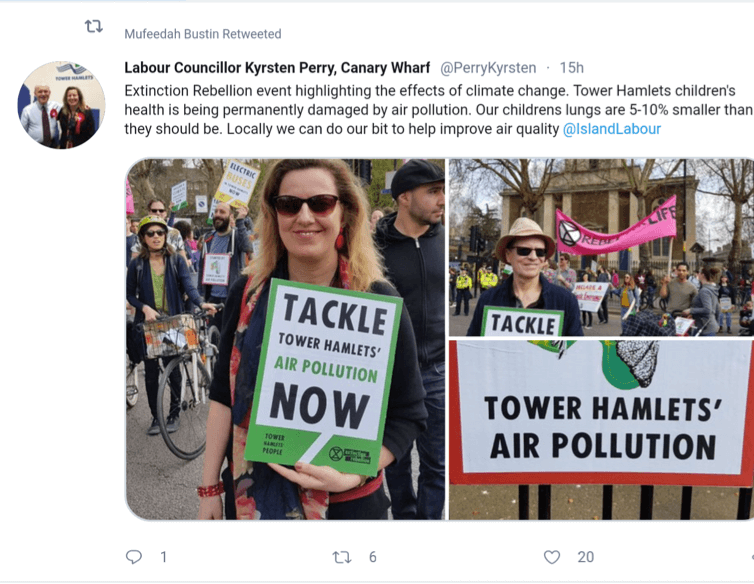 Today's children who are most at risk are also being used in Tower Hamlets by their Council. This is a current poster display at Mile Park's Children Pavilion on Turner Road Park - Impressive.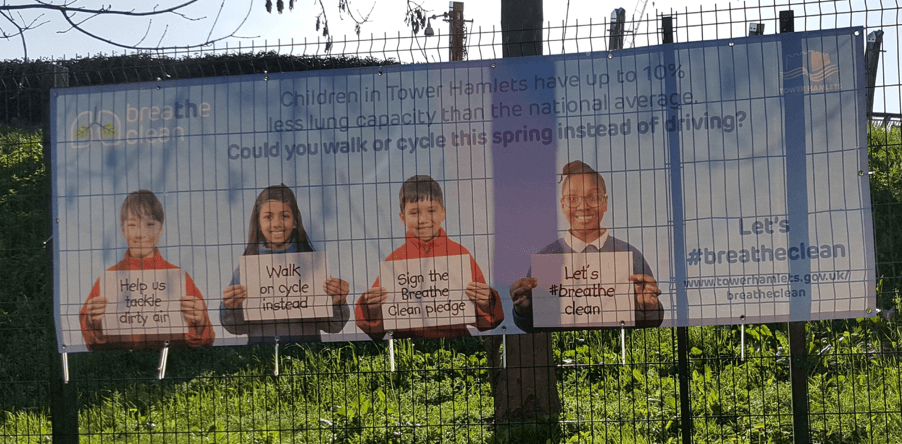 What Councillor Miah said on the Limehouse Triangle - Planning Application.
29 March 2019 at 12 noon was
the
deadline for residents to submit final comments for the 1 April 2019 development committee meeting. The residents collectively submitted all comments to the council before the deadline.
A little over 24 hours later on Saturday 30 March 2019 the newly elected Councillor for Locksley (it included the Limehouse Triangle) Cllr Miah posted a blog about the Triangle. This was just two days before the Development Committee meeting!
Below are some extracts from Councillor Miah's blog
Democratisation from the Ground Up.
Democratisation from the ground up is a radical concept, in its essence it asks for power that is not really justified by the will of the governed should be dismantled, more to the point it should be refashioned from below. Without self interested lobbies (business, bureaucrats and politicians) maintaining their privilege with propaganda and force through economic & political structures, ordinary folks might own own and govern the places where they live and communities might provide for the basic needs of everyone. The method being not soley relying on the exercise of state powers, but rather to reconstruct the economic life of the people from the ground up, build it up in the spirit of Socialism.
Power to Residents on Estates. There is no contradiction between holding such ideals and pursuing certain reforms through the existing structures when there's a chance for a more free, more just society in the short term; such humility is a necessary antidote to the self defeating purism of ideology. One good example is giving more powers to TRAs and tenants in general on estates through balloting for major decisions. Ordinary folks who live on an estate know best how to design and meet the needs of the estate. And if asked to find space for more housing through infills, to meet the housing shortage, they will come up with more sustainable solutions (as many suffer from overcrowding themselves) than politicians and bureaucrats who a) don't live in the rea and b) come from privileged background and thus have no experience of living in social housing.
On the Locksley Estate D Planning Application, extra effort was taken by Council Staff to ascertain their views. No objections was lodged to by the Tenants Residents Association, also a door knocking exercise was carried out where, I along with Council Staff went and knocked on all the doors of the Estate, Parnham Street and Rhodeswell Road, also and extra drop in session was carried out. Most residents were favourable, especially in exchange for the loss of the space, improvements to amenities will be made, including measures against ASB.
On Monday 1st of April, I will be going to the Development Committee to speak in favour of the application and to hold up maintain the wish of the residents, for a more improved amenities in exchange for land to build more social housing on the estate [sic].
Please click on the link below to read the rest.
http://purumiah.com/why-i-am-supporting-the-locksley-d-planning-application-supporting-the-democratic-mandate-of-residents/
Residents objecting to the development were astonished to discover he decided to speak at the Committee meeting in support of the development.
Our new Councillor Miah had NOT spoken or made any attempt whatsoever to engage with the residents on the Locksley Estate objecting to the Triangle.
No meeting. No introduction. NOTHING.
Almost ALL residents on the Locksley Estate, particularly those in the immediate vicinity of the Triangle and nearby residents in the neighbourhood have always objected to building on this site. Over the last 3 years, over 200+ names had been collected and presented to the Tower Hamlets Council planning department.
The Tenants Residents Association NEVER discussed the Site D Planning Application at their meetings!
Only one drop in session took place in January 2019 because residents reminded the council a consultation NEVER took place!
Below Cllr Miah has a contradictory reaction in another blog where he highlights the pollution levels. However he is supporting the Limehouse Triangle development which is opposite a primary school on the busy and polluted Salmon Lane.
Cllr Miah's letter to Transport for London (TFL) Objecting to the Proposed North South Cycle Route through Burdett Road
by
Puru Miah
| Feb 9, 2019 |
Blog: All Things Mile End, All Things Tower Hamlets
,
Community
,
Democracy
|
0 comments
Dear Transport for London,
I am writing to you to oppose the new cycle route from Hackney to the Isle of Dogs. On the following two grounds:1 – There is no mention in the proposed redesign of the roads for the cycle route of restoring the the right turn at the Burdett Road and Mile End Road junction. The residents living in and around Mile End have been negatively impacted by the lack of right turn at the junction. This has lead to longer journey times, added congestion and more pollution in local roads, local roads which have primary schools.
Climate change threatens us and our families' future. This situation is further worsened by fossil fuel extraction. Without bold action to keep 80% of fossil fuels in the ground, a changing climate will have devastating consequences for people, societies and ecosystems around the world.

Cllr Miah at a meeting with Freinds of the Earth Tower Hamlets and Hackney discussing divestment from Carbon extraction and investing in Renewable Inrastructure [sic]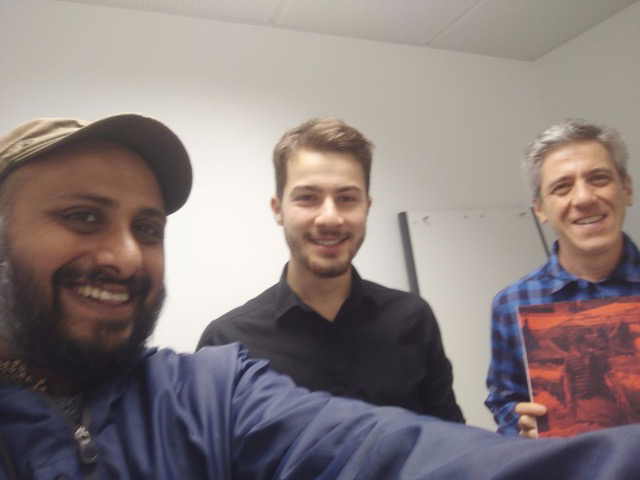 Our new Councillor Miah states that he was preparing to knocked on 380 doors during a consultation! It's good to add here AGAIN the following:
The ONLY consultation for Parnham Site D Street (Limehouse Triangle) took place in January 2019 because residents highlighted to the Council that NO resident had attended or received a notice of a consultation on the Site D (Limehouse Triangle) development and we would like one!
The tweet below was posted the day after Cllr Miah spoke at the committee meeting to agree the build.
NO-ONE we've spoken to and certainly no-one who will face the full impact of this development has ever met Councillor Miah; we don't know who he is and most certainly did NOT receive a knock on the door about the Limehouse Triangle from him!
Note at the only consultation for this development (Site D) in January 2019 one council official in attendance stating that "I admit, the council have gone about the consultation the wrong way, we should of done this at the beginning not the end"!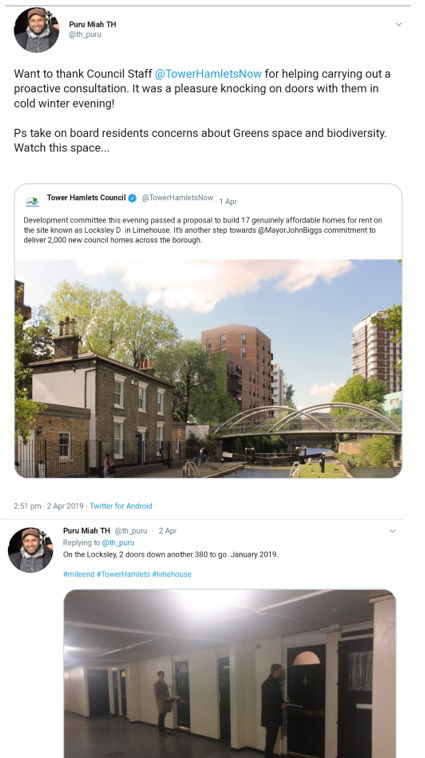 Sign our petition: We have a Plan Bee...
Click here to sign.


Mayor John Biggs on Climate Change
Viewpoint: Climate change affects us all and we must do something about it
PUBLISHED: 08:30 06 April 2019
John Biggs, Mayor of Tower Hamlets
At our recent council meeting we declared a 'climate emergency' in Tower Hamlets and committed to work towards being a 'carbon neutral borough' by 2025.
We were addressed by parents, but also by local schoolchildren, worried about the future.
In case you wonder why, and whether this is just some campaign that doesn't really affect us, let me be clear it's not just about icebergs and rising sea levels that may affect the whole world but won't hit us in Tower Hamlets just yet.
It's more urgent because locally our air quality, every day, exceeds safe standards, and it's affecting people's health.
Action means working across borough boundaries, and indeed national boundaries.
But it also needs local action. Our initiatives such as the Breathe Clean campaign compliment London-wide policies to reduce our environmental impact.
We need to step up our efforts and consider the legacy we will leave our children.
Credit: https://www.eastlondonadvertiser.co.uk/news/docklands-east-london-advertiser-guest-column-john-biggs-mayor-of-tower-hamlets-climate-change-affects-us-all-and-we-must-do-something-about-it-1-5974753

Annual Report: Cllr Puru Miah 2018-2019
by Puru Miah | May 4, 2019 | Blog: All Things Mile End, All Things Tower Hamlets, Democracy | 0 comments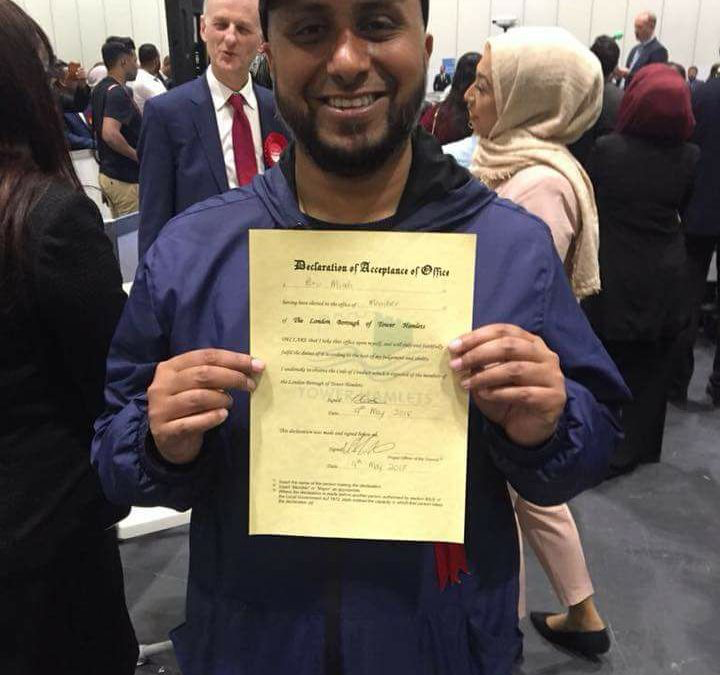 It has been a year since I have been elected as a Ward Councillor by the people of Mile End Ward. The campaign was tough and opposition came from, let's say 'unexpected quarters'. Since elected I have regularly carried out twice weekly surgeries (an average of 8 per month) leading to 245 individual members enquiries with regards to various cases on the ward.
Below are a highlight of my activities over the year:
Click below for the Cllr Miah annual report.
http://purumiah.com/annual-report-cllr-puru-miah-2018-2019/